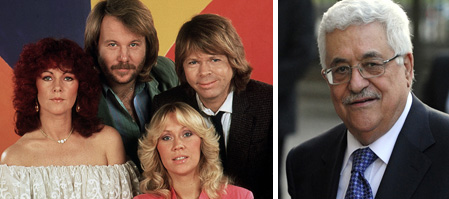 ABBA ADDRESSES UNITED NATIONS IN OFFBEAT BID FOR STATEHOOD
UNITED NATIONS — Pop superstars ABBA addressed the General Assembly today in what officials are calling "a bizarre scheduling error".
The floor was packed with delegates waiting to hear from Palestinian leader Mahmud Abbas, who was widely expected to make his historic bid for statehood.
When the house lights dimmed and the first notes of "Knowing Me, Knowing You" began to play, consternation and surprise filled the chamber.
"We expected Abbas, but instead we got ABBA" Secretary-General Ban Ki-moon said shortly after the concert. "A simple mistake was made. I appeal for calm".
Mr. Ban also questioned how ABBA was even a band. "Did they not break up in 1983, after a falling out with their manager?"
The greying rockstars reprised several of their greatest hits, including "The Winner Takes it all", in apparent reference to Israel's current land claims.
With surprise on their side, the band used the opportunity to press for Palestinian rights.
"If you change your mind, they're the first in line / Honey they're not free / Take a chance on P / If you need peace, let them know, gonna be around / They've got no place to go, and they're feeling down."
Nodding vigorously, many delegates were moved to applaud and cheer as they had seldom done before.
In a scene reminiscent of an earlier speech by Iran, the entire contingent of European Union delegates stood up as one, walked away from their desks, and formed a conga line, careening joyfully down the aisle.
Speaking shortly after the program, US President Barack Obama indicated his cautious support. "Friends, disco has been a force of oppression and terror for many decades. Let's not kid ourselves. But frankly, even disco is better than letting Abbas humiliate us on the world stage. So I say thank you for the music — for giving it to me."