And who will give you sanctuary?

The following is a faintly artistic explanation of why I dropped from the best high school in the world.
It was written in 1994, and hit the web in 1995. I was 17.

They told us that we were the children of the future, and we believed them, and in many ways I still do. But we are all born children, and the future is just a heartbeat away...

They said that I should be a Professional Writer, but I'm not sure if I want to, having so much emotional attachment to my words that it seems strange to mass market them. I don't want to perform on paper to the polite applause of the literaries. I want to reach out and -- <ping!> touch people's lives.

They showed us how to adapt to an ever changing world of media and technology, while I developed a strange fascination for leaping feat-first into mud puddles. <grin> Logically I've never been this old, but I've never felt as young, and I'm so lucky...

They spoke of Time Management, but in my mind's eye I saw the moonbeams glance off the face of my Timex as I tossed it off the tall wind-strewn cliffs of my home, and I smiled...

They said we should expand our horizons by daring to sing on Public Transit, but the bus driver was so used to me that he'd just sing along...

They spoke about a new age of developmental socialisation while I accidentally met people who would change my life forever.

And there where some who'd have me stay, but times change...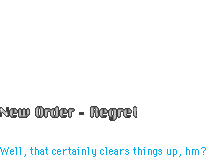 {And I sometimes wish I could be what I was when I wanted to be what I am now -- but I can still say that in everything I've ever done there's nothing I regret, which is something to be proud of}